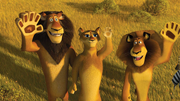 The lion (Panthera leo) is one of the big cats and hail from Africa. Well known lions are
Alex
, Zuba,
Florrie
,
Makunga
and the
Zuba's pride
Known lions
Edit
Florrie: Alex's mother and Zuba's wife/mate and paternal grandmother of Florrie II, who is named after her.
Zuba: Alex's biological father
Makunga: Former Alpha lion. He wishes to overthrow Zuba many times. However, Makunga is captured by Nana and brought to New York in a cat cage by her.
Alex: Formerly known as Alakay, son of Zuba and Florrie and father of Florrie II He is the main protagonist of the Madagascar Franchise
Florrie II: Gia and Alex's daughter. She is a half-Jaguar, half-lion hybrid and is named after her paternal grandmother.